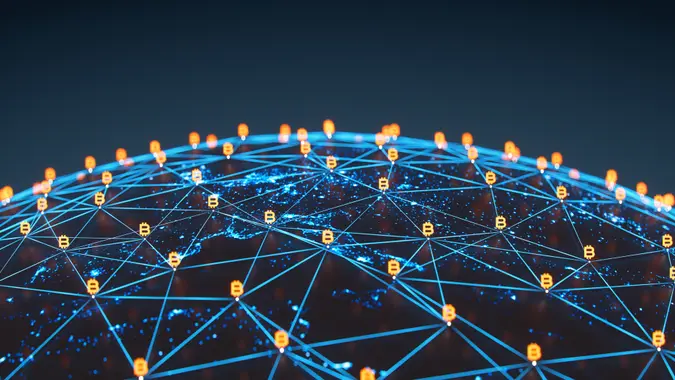 imaginima / Getty Images/iStockphoto
Investors eyeballing the cryptocurrency market should consider Chainlink if they want to invest in a platform with real-world applications.
Read: 5 Things You Must Do When Your Savings Reach $50,000
The project made news in May 2021 when LINK, its native token, climbed to an all-time high of over $52, but the cryptocurrency has since dropped into the single digits. Even though crypto projects are speculative, this one could have much to offer the right investor.
Chainlink Overview
| At a Glance | |
| --- | --- |
| Cryptocurrency Network | Chainlink |
| Native Currency | LINK |
| Market Cap | Approximately $3.49 billion as of Nov. 10, 2022 |
| All-Time High | $52.88 on May 10, 2021 |
| All-Time Low | $0.1263 on Sept. 23, 2017 |
Chainlink is a cryptocurrency platform designed to bridge the gap between decentralized blockchain networks and off-chain data sources using hybrid smart contracts.
The platform accomplishes this by creating a decentralized network of oracles — digital sensors that monitor outside data feeds providing everything from weather conditions and sports scores to stock prices — and offers greater data security than centralized oracle sources. 
Users send out requests for information to a network built on the Ethereum platform. Then, through a series of hybrid smart contracts, information is verified via the distributed oracle network and entered into the blockchain system.
LINK, the project's native currency, previously paid users who underwrite these data transactions with the proof-of-work consensus method. However, following the Ethereum "Merge" upgrade that replaced that network's proof-of-work consensus layer with a proof-of-stake consensus layer, Chainlink also switched to proof-of-stake to remain operational on Ethereum. Chainlink's method of staking, called explicit staking, keeps oracles secure and ensures that they report off-chain events accurately.
Chainlink Price Prediction
Like many other cryptocurrencies, LINK's value has fluctuated wildly over the last two years. After soaring to $52.88 in May 2021, the token plunged to under $10 in more recent months. As Chainlink resides on the Ethereum platform, ETH token influences LINK's movements.
Q4 2022 Price Prediction
The Ethereum network transitioned to a fully proof-of-stake consensus system, which should result in improved network speed and flexibility over time. If it does, there could be a surge of interest from developers wanting to build on Chainlink's subsequently quicker network, which could drive up the price of the coin.
Coinpedia expects a bull trend to top out at $11.28 for the end of the year but doesn't discount a possible drop to $8.19. 
How Much Will Chainlink Be Worth in 2025?
Cryptopolitan weighs in on Chainlink's future value, predicting that the token will trade between $22.63 and $27.71 in 2025.
The crypto news site points to Chainlink's thriving ecosystem — open and welcoming to app and software developers looking for ways to connect the world. 
What Will Chainlink Be Worth in 2030?
Much of cryptocurrency's future remains uncertain as legislators and regulators grapple with how best to work with technology that defies centralized control. Nevertheless, more than half of 100 of the world's largest financial institutions now invest in digital currency, and President Biden recently instructed his administration to set policy directives for managing crypto assets.
Digital currencies are likely to become even more mainstream, and Cryptopolitan forecasts that Chainlink will trade for $148.52 to $180.73 in 2030.
Investors who believe in Chainlink's potential can buy coins on crypto exchanges like Coinbase, Gate.io or Kraken.
Chainlink's Main Competitor
Since 2014, Chainlink has sought to solve the industry-wide problem of securely transmitting information between off-chain data sources and blockchain systems. This network is the king of the oracle-hill, but some competitors are looking to upset that order.
Band Protocol
Band Protocol is one competitor for market dominance. First launched on Ethereum's blockchain in 2019, the network quickly moved to the Cosmos (ATOM) platform in 2020. Band's claim to fame is its broad compatibility with blockchain platforms. BAND is the platform's sole currency and incentivizes users to create new blocks and manage data queries.
Band's move to Cosmos came with expanded capabilities, including a more efficient process for certifying transactions. Band is betting on an industry need for speedy data feeds and plans to be…


Read More: Chainlink Price Prediction 2022: Should You Invest?