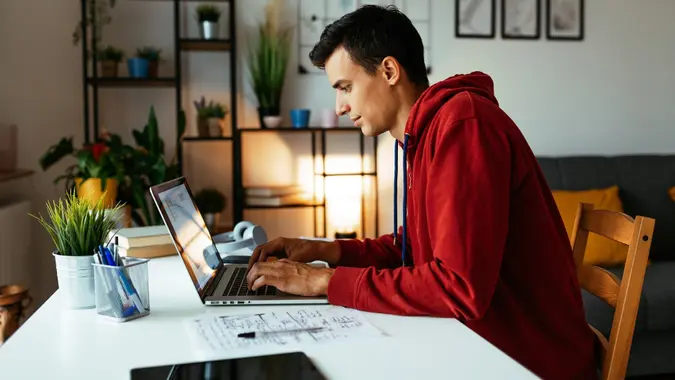 Drazen_ / iStock.com
The brainchild of blockchain royalty, Stellar was co-founded in 2014 by Jed McCaleb of Mt. Gox and Ripple fame. In the ensuing years, the project has emerged as a shining example of how blockchain technology can have functional, real-world utility beyond just digital currency.
But is Stellar's native digital currency — XLM — a worthwhile investment, and what is the XLM price prediction that most analysts are making for the near and long-term future?
Here's what you need to know before putting your money into play.
What Is Stellar? 
Stellar is a decentralized, open-source payment platform that uses blockchain technology to enable its users to transfer funds quickly, securely and inexpensively. It doesn't favor any one currency. Instead, the platform lets account holders create, send and trade digital representations of all forms of money, like dollars, yen and bitcoin.
The result is a first-of-its-kind network that unites all of the world's financial systems under one digital roof. 
No one owns the platform. Its open-source software is maintained by its users, who have more than 7 million accounts. The Stellar network has processed more than 89 million payments and more than 5 billion total operations — that's 7.1 million operations every day.
Unlike so many competing platforms, the aim of Stellar is not to replace any form of currency, but to provide a platform where all currencies can work together.
What Is Stellar XLM?
The Stellar network utilizes its own native digital currency called the stellar lumen. The cryptocurrency trades under the symbol XLM.
Stellar requires its account holders to hold a small quantity of lumens at all times, although the lumen requirement is modest and transaction costs are just a fraction of a penny. Stellar's literature says that both the Lumen requirement and the transaction fees are necessary to ward off bad actors and fraudsters and to eliminate database clutter and spam.
What Is the Current XLM Price Prediction? 
XLM broke through the one-cent barrier in 2017 after trading on the open market for nearly three years at a fraction of a penny.
As of Aug. 24, XLM trades at around $0.11, but there were a whole lot of ups and downs in between — and before you put any stock into an XLM price prediction, it's important to know the history of stellar lumens' price movement from its inception through the current day.
Like most digital tokens, XLM has shivered through a chilly crypto winter over the last few months. On Jan 1, it was trading at $0.29 — nearly three times where it is today — but that was hardly its high-water mark. When bitcoin was at its all-time high in November 2021, XLM was trading at $0.36. In May, it was trading at a high of $0.72 — exactly twice its November 2021 price and nearly seven times its value today.
In January 2018, XLM was trading at $0.69 — just shy of the all-time high it would reach three and a quarter years later.
However, it spent much of the time in between those two peaks trading way down in the single-digit cents, bottoming out under a nickel. As is the case with so many of its crypto cousins, an investment in stellar lumens is an investment in volatility.
How Much Is XLM Worth in 2025?
No one can predict the future — especially with an investment as turbulent as cryptocurrency — but several analysts expect good things from XLM over the next few years. DigitalCoinPrice predicts that XLM will climb to between $0.13-$0.15 by the end of 2022, $0.14-$0.18 in 2023 and $0.13-$0.20 in 2024.
Three years from now in 2025, the publication forecasts that XLM will hit between a minimum of $0.19 and a maximum of $0.22 for an average of $0.20. If Stellar Lumen does reach the mean forecast of $0.20 by 2025, it will have gained about 85% in three years. 
How Much Will XLM Be In 5 Years?
On a slightly more distant horizon of five years, WalletInvestor predicts that XLM will jump to $0.32 in 2027. That's a gain of roughly 196%. If that forecast proves correct, a $100 investment in XLM today would be worth $295.75 five years from now in 2027.
GovCapital offers a much rosier outlook. It sees XLM going all the way up to around $1.95 by August 2027 — but that's just the prediction in the middle. Its highball forecast is closer to $2.25.
Can XLM Reach $10?
DigitalCoinPrice predicts that XLM will climb to a maximum of $0.60 nine years from now in 2031, although the publication thinks $0.57 is more likely. The optimistic GovCapital five-year prediction is an outlier — most…


Read More: Stellar (XLM) Price Prediction 2022: Should You Buy?