Every week we wrap up the must-reads from our coverage of the Ukraine war, from news and features to analysis, visual guides and opinion.
Putin mobilises reservists
Wednesday brought news that Vladimir Putin had decided to mobilise 300,000 reservists, in a sign that the Russian president realises his troops inside Ukraine are flagging. In a significant escalation that places the country's people and economy on a wartime footing, Putin also threatened nuclear retaliation, saying that Russia had "lots of weapons to reply" to what he called western threats on Russian territory – and adding that he was not bluffing.
Putin said in televised address that Russia's first mobilisation since the second world war was a direct response to the dangers posed by the west, which "wants to destroy our country", and claimed the west had tried to "turn Ukraine's people into cannon fodder".
His speech was met with incredulity in the west. Joe Biden and allied leaders reacted angrily to Putin's threats to use nuclear weapons and pledged to maintain support for Ukraine.
The Ukrainian president, Volodymyr Zelenskiy, also shrugged off Putin's moves to escalate the war, saying his country's forces would continue their counter-offensive, not giving Russia breathing space to mobilise and dig in on Ukrainian soil.
In Russia, the mobilisation set off protests that resulted in more than 1,300 arrests and sent many Russians heading for the border. Andrew Roth reported on the feeling inside Russia, where, suddenly, the war had come home.
Analysing the developments, Dan Sabbagh, defence and security editor, says the mobilisation is a measure that will take months to have any meaningful military impact, while Pjotr Saur writes that although the Russian leader has previously flirted with the grim prospect of using nuclear weapons, experts say his latest statements went further, raising fears around the world of an unprecedented nuclear disaster.
On Thursday, Andrew Roth wrote about the first day of the draft in Russia: summons delivered to eligible men at midnight. Schoolteachers pressed into handing out draft notices. Men given an hour to pack their things and appear at draft centres. Women sobbing as they sent their husbands and sons off to fight in Russia's war in Ukraine. While others flee.
In New York, Patrick Wintour explains that Turkey, China and India's patience with Moscow is ebbing.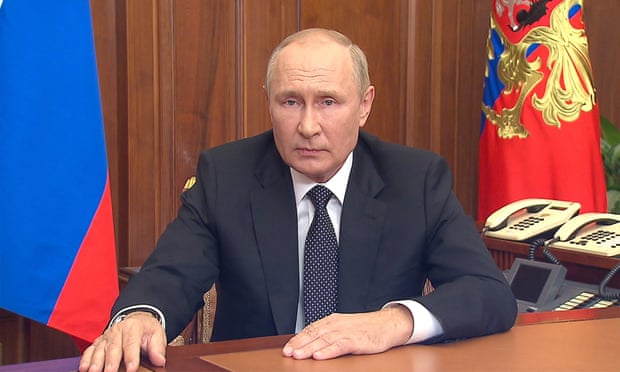 Sham referendums
On Tuesday Andrew Roth reported that four Russian-occupied regions in Ukraine have said they are planning to hold "referendums" on joining the Russian Federation in a series of coordinated announcements that could indicate the Kremlin has made a decision to formally annexe the territories.
Moscow may be betting that a formal annexation would help halt Russian territorial losses, after a successful Ukrainian counteroffensive that has reclaimed large portions of territory in the Kharkiv region.
But Ukraine and the west have indicated they will not recognise the annexations – and that Russia's new territorial claims will not slow Ukraine reclaiming its sovereign land.
"These referenda are an affront to the principles of sovereignty and territorial integrity that underpin the international system," said the White House national security adviser, Jake Sullivan.
"If this does transpire, the United States will never recognise Russia's claims to any purportedly annexed parts of Ukraine."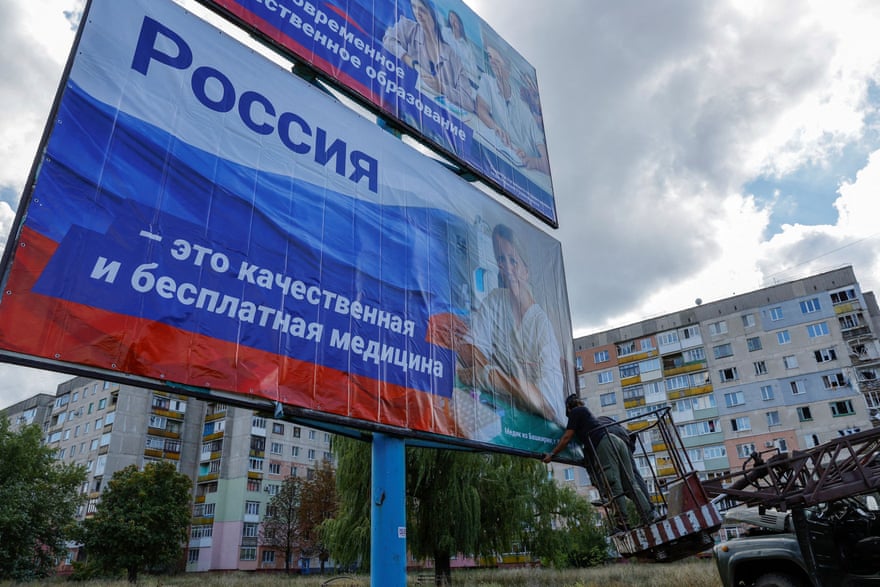 Prisoner swap
On Thursday Ukraine announced that 215 Ukrainian and foreign citizens had been released by Russia in a prisoner exchange, including fighters who led the defence of Mariupol's Azovstal steelworks that became an icon of Ukrainian resistance.
Russia received 55 prisoners including Viktor Medvedchuk, a former Ukrainian lawmaker and ally of Vladimir Putin accused of high treason, Volodymyr Zelenskiy said in his daily address. Moscow has not commented.
The exchange came after news that a British man who was threatened with execution after being captured by Russian forces during the siege of Mariupol has been released alongside four other Britons and five international prisoners after the intervention of Saudi Arabia.
Liberated Ukrainians on life under occupation
Until last week, a portrait of Vladimir Putin hung on the wall of the mayor's office in the town of Shevchenkove. There was a Russian flag. Around a cabinet table, a pro-Kremlin "leader", Andrey Strezhko, held…


Read More: What happened in the Russia-Ukraine war this week? Catch up with the must-read